Stebbins Ancestors
The Ancestors of Hazel Estelle Stebbins Sherman
Listed in reverse from 1972 to 1540, twelve generations, ten in America
---
12 Hazel Estelle Stebbins 1889-1972
Hazel Estelle married Arthur Albert Sherman in Monson in 1914. Their children were: Robert Carlton, Iola Mae and Eleanor Gladys. Arthur died in the great flu epidemic, Hazel married second, Johannes Jacobsen.
12 Merrill Elmer Stebbins 1897-1973
Merrill Elmer married first, Virginia LeGrand April 15, 1917 at Monson. Their children are Donald Edward, Shirley Mae, Geraldine Marie, Winifred Corrine, Priscilla Gladys, Kenneth Elmer and Harold Wayne. Married second, Lucy Moore, married third, Gloria Whitehall.
---
11 Merrill Albert Stebbins 1853-1940
Merrill Albert married Emma Powers, October 19, 1888 in Monson. Their children were Hazel Estelle and Merrill Elmer Stebbins
---
10 Carlton Luke Stebbins 1819-1891
Carlton married Martha Logee Baker on May 25, 1852 in Wales, MA. Their children are Merrill Albert, Sherman Moses and Lester Carlton
---
9 Ruel Stebbins 1780-1846
Ruel married Miriam Sherman in 1807. Their son was Carlton Luke. Miriam descends from the original Sheman family and from John Sherman of Brimfield who ordered the meeting to establish the town of Monson, MA. This link to the colonial Sherman family can be traced back almost a thousand years to William I of England to Edward III and his famous son, John of Gaunt. Miriam Sherman is the 25th generation from William I.
To see the ancestry of the Sherman line of Stebbins Ancestors, visit
www.stebbinsshermanarchive.bravehost.com
the official family archive site for the Monson Free Library
---
8 Zerah Stebbins 1745-1803
Zerah married Eunice Dunham July 11, 1771. Their children were: Ruel, Rhoda, Justus, and John.
---
7 John Stebbins (Jr) 1712-1784
Married Margaret Brooks October 1, 1741. Their children: Zerah, Margaret, John, Mary, Levi, Patience, Abigail, and Abel.
---
6 John Stebbins 1686-1765
Married Patience Wright. Their children: John, Mary, Levi and Patience.
---
5 Samuel Stebbins 1646-1708
Married Joanna Lamb July 22, 1679, then Abigail Brooks in 1685. Their children: John, Infant, Thomas and Samuel; then with Abigail, Ebenezer, Infant, William, Abigail, Joanna, Thomas, Benjamin and Mercy
---
4 Thomas Stebbins 1620-1683
Married Abigail Burt Munn and Hannah Wright. Their children: Samuel, Thoms, Joseph, Joseph, Sarah, Edward, Benjamin, Hannah & Roland.
---
3 Rowland Stebbins 1574 (Essex, UK)-1671
Married Sarah Whiting, November 30, 1618. Their children: Thomas, Sarah, Elizabeth and John.
St. Mary's Church, England. Parrish church of the English Stebbings, and depository of Stebbings birth records.
---
2 Thomas Stebbins ap1565- (Essex)
---
1 William Stebbing ap1540- (Essex)
Rowland Stebbins emigrated from England on the ship Francis out of Ipswich in April of 1634 Here is a Google Earth image of Stebbing, in Essex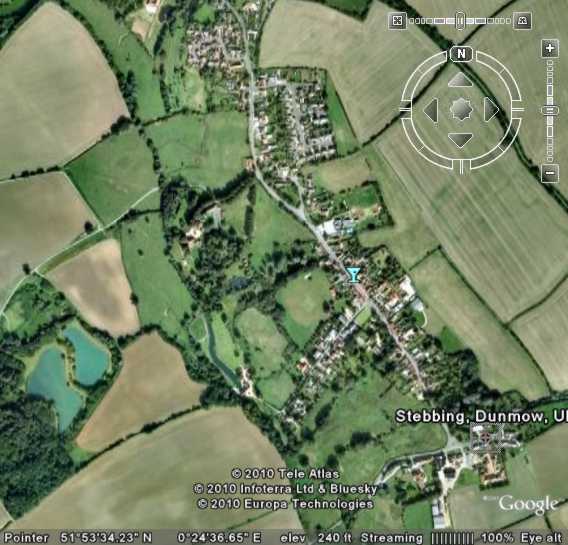 Stebbing, Essex
---
The Historic Stebbins Family Plot, Hillside Cemetery, Monson. The two headstones on the left are for Beebe family members who married into the Stebbins Line.